Tuesday, August 30, 2005
The Wind is Blowing...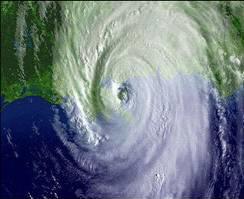 Hurricane Katrina...
Hurricane Katrina has brought a lot of rain to our area and caused the National Weather Service in Nashville to issue an Inland Tropical Storm warning for southern middle Tennessee, which is in effect until 1pm today. Wind speeds are/were expected to reach 39 - 73 mph in our area, with 50mph gusts possible. Last night it was hard to sleep because the wind was so bad. None of our trees were blown down but some of our neighbors trees were. I have not heard of any tornados touching down any where near by. The National Weather Service has also issued a Flood Watch for our area. Schools are out in most of southern middle Tennessee today. I do not think the storm, for our area, was as bad as everyone thought it was going to be... thank goodness!
Nature and It's Upset...
USA TODAY's editorial page
devotes its space
this morning to Katrina and examines the hurricane issues driven by people and nature. "Katrina is the latest reminder that in a world of natural and manmade dangers, not every place can be secured against the worst-case scenario. Some forces of nature exceed the rational limits of human preparedness."
If you would like to donate to the Victims of Hurricane Katrina... Here are some links...
Cudos goes out to all those who are donating and helping in this disaster relief.
Until we meet again...
Posted by Girl on the Blog :: 10:18 PM :: 0 Comments:


---------------oOo---------------