This week has started out being such a hard week for me. My son will be turning one on 9-19-05 and we are having his 1st birthday party on Saturday, 9-17-05. I do not want to give my child up to "age". I want him to stay a baby forever. I know this is not possible... but I can always wish... can't I? He is "talking" all the time now... carrying on conversations with me... I have no clue what he is saying... I just agree with everything that comes out of his little mouth. Sometimes I feel as though he might be swearing at me... :) Specially when I am changing his diaper... or when I tell him "no".



I can never express how much my son means to me... how happy he has made my life. I thought I knew what love was... but I didn't... until I looked into the eyes of a 6 lbs 6 oz tiny angel the Dr. had placed upon my chest... that kind of love is the best love I have ever experienced.

My son teaches me abundantly more each day . There is more to life to appreciate than I ever imagined . The simplest things in life such as a hug, kiss and a hand held in mine are some of the most heartfelt moments of my life . He teaches me to laugh, have fun and truly enjoy life to the fullest . I would have never thought that my child would be teaching me ... how ironic .
Motherhood has introduced a lot of different emotions . Joy, love, fear and admiration are just the tips of the emotional roller coaster I have discovered with my son . The instinct to protect him comes naturally . There is nothing I wouldn't do to protect my son . I have become more aggressive and courageous than I ever knew I could be .
I thank God everyday for giving me the pleasure and honor of being my son's mother. The hardest job I have ever had to do in my 28 years of life... but the best job I have ever had in my 28 years of life.


So... I drag my feet... cussing his birthday... this year has flown by so fast. Before I know it he will be a grown man.


Until we meet again...
Posted by Girl on the Blog :: 10:18 PM :: 4 Comments:


---------------oOo---------------
Sunday, September 11, 2005
A Somber Day... Where was I?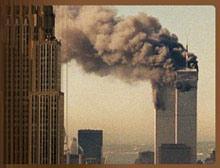 Where was I when I heard of the attacks on 9-11-2001? My then boyfriend, now hubby, and I were listening to the radio on the way to work. A frantic DJ came on the air in disbelief stating a plane had hit one of the Trade Centers. My hubby and I didn't think anything about it. We just thought it was a small plane... we had no idea of the shock to come. When we got to work, we walked into the brake room... 120 employees were standing around a 19 inch TV... everyone of them looked like they had seen a ghost. As we all stood there in a fog... the 2nd plane hit... screams... tears... anger... emotions were flying. That was a day I will never forget... I saw grown men crying, women sobbing... everyone calling their loved ones. I remember calling my grandmother (God bless her soul)... she was sick with cancer and was overwhelmed with emotion. I can hear these words she stated to me... "What is happening to our world? We now know we are not indestructible. God Bless the people... oh my goodness... people are jumping to their deaths... Oh, dear Lord, God Bless them...God Help them." I know on that day... I was so angry and devastated and didn't understand the reality of it all... on that day... my life changed forever... as it did for all Americans. That day... we all lost "brothers" and "sisters".
A great 9/11 website is
http://911digitalarchive.org/
.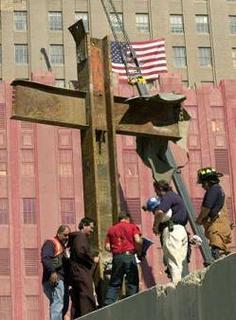 9/11 Poem
Two thousand one, nine eleven
Three thousand plus arrive in heaven
As they pass through the gate,
Thousands more appear in wait
A bearded man with stovepipe hat
Steps forward saying, "Lets sit, lets chat"
They settle down in seats of clouds
A man named Martin shouts out proud
"I have a dream!" and once he did
The Newcomer, said "Your dream still lives."
Groups of soldiers in blue and gray
Others in khaki, and green then say
"We're from Bull Run, Yorktown, the Maine"
The Newcomer said, "You died not in vain."
From a man on sticks one could hear
"The only thing we have to fear."
The Newcomer said, "We know the rest,
trust us sir, we've passed that test."
"Courage doesn't hide in caves
You can't bury freedom in a grave,"
The Newcomers had heard this voice before
A distinct Yankees twang from Hyannisport shores
A silence fell within the mist
Somehow the Newcomer knew that this
Meant time had come for her to say
What was in the hearts of the
five thousand plus that day
"Back on Earth, we wrote reports,
Watched our children play in sports
Worked our gardens, sang our songs
Went to church and clipped coupons
We smiled, we laughed, we cried, we fought
Unlike you, great we're not"
The tall man in the stovepipe hat
Stood and said, "Don't talk like that!
Look at your country, look and see
You died for freedom, just like me"
Then, before them all appeared a scene
Of rubbled streets and twisted beams
Death, destruction, smoke and dust
And people working just 'cause they must
Hauling ash, lifting stones,
Knee deep in hell, but not alone
"Look! Blackman, Whiteman, Brownman, Yellowman
Side by side helping their fellow man!"
So said Martin, as he watched the scene
"Even from nightmares, can be born a dream."
Down below three firemen raised
The colors high in ashen haze
The soldiers above had seen it before
On Iwo Jima back in '44
The man on sticks studied everything closely
Then shared his perceptions on what he saw mostly
"I see pain, I see tears, I see sorrow-but I don't see fear."
"You left behind husbands and wives
Daughters and sons and so many lives
are suffering now because of this wrong
But look very closely...You're not really gone
All of those people, even those who've never met you
All of their lives, they'll never forget you
Don't you see what has happened?
Don't you see what you've done?
You've brought them together, together as one."
With that the man in the stovepipe hat said
"Take my hand," and from there he led
three thousand plus heroes, Newcomers to heaven
On this day, two thousand one, nine eleven
Author UNKNOWN
___________________________________________________________________
Also thanks to
Ingrid
for sending me this
Link
from "Skippy the Bush Kangaroo". FIVE DAYS WITH KATRINA... has over 197 pics and fascinating captions of the before and after Katrina's wrath...
Katrina Donations can be made to:
United Methodist Committee on Relief
Posted by Girl on the Blog :: 7:33 PM :: 2 Comments:


---------------oOo---------------
Thursday, September 08, 2005
Flattered or Disgusted?

I am not sure if I should be flattered or disgusted... just creepy....

I was in the chips isle at my local Wal-mart store. In the same isle there was an elderly man, had to be at least 70 or 80 yrs old, in a scooter cart. I noticed he was looking at me. I smiled at him and glanced back down at the Doritos I was thinking of buying. The elderly man says... "everything is getting so expensive"... I responded, as nicely as I could, "yes, it has." He started looking me up and down and said "how expensive are you?" I looked at him and said "excuse me?" He again asked "how expensive are you"... I said with a silly smile... "Very." Needless to say... the old guy wanted to get a little more personal with his questions... I shall not tell the rest of the conversation... but lets just say... my mouth fell to the floor with questions he asked and comments he made about my skirt I was wearing. Nevertheless... the comment I made to him, to shut him up, wasn't one he would have expected to come out of my mouth either. As I snatched up my Doritos and hurried out of the isle... I could feel his eyes watching my every move. Creepy... I wonder if he even knew what he was saying... who knows....

Should I feel flattered or disgusted that I had the "wheels turning" of an old geezer? This, I can honestly say, has never happened to me before. A 70 something year old man trying to pick me up in the chips isle of a Wal-mart store.

Until we meet again...
Posted by Girl on the Blog :: 9:52 PM :: 2 Comments:


---------------oOo---------------
Wednesday, September 07, 2005
Home Alone...

I am sitting home alone today while my hubby is at work and my son is with his grandmother. I am so disgustly in need of a shower. I have been cleaning the house like a mad woman. My son will be turning one in 2 weeks and I am trying to get the house in perfect shape for all the party guest. We have only invited close famiy and friends. Yet, the number is to be 20 to 25 people that will be coming. "My son is going to be 1"... this is what keeps echoing in my head. How time has flown. It seems like yesterday that I was telling everyone "I'm pregnant". Will there be another baby soon? Not for awhile... I am going to let my son enjoy being an only child for at least another year. I truly believe that being a parent is the hardest job of all... but the most rewarding. I have enjoyed every moment with my son. He is the reason I get up in the mornings. He has completed my life in so many ways.

I have also been watching TV while cleaning... Hurricane Katrina... I am still having a hard time "swallowing all of this"...

If you wish to donate cash and/or volunteer here are some great places to do so...

United Methodist Committee on Relief
(This is the one I really recommend)

Convoy of Hope

Salvation Army

Operation Blessing

America's Second Harvest

American Red Cross

There is a family that is moving from LA to my community. A local person has donated some land and a trailor to this family. We are going to try to furnish everything for them. I just wish we could do more for more people. If I was a rich woman... I would be donating land and homes for all those who lost their homes.

Until we meet again...
Posted by Girl on the Blog :: 3:15 PM :: 2 Comments:


---------------oOo---------------
Monday, September 05, 2005
Can't Sleep...

I have been up all night... Needless to say, I am still not sleeping well. The mattress is still crap... even after being flipped. I guess the sofa is going to be my new best friend. I have a lot going on in my life right now... STRESS... I had a great 'stress free' moment this morning at 1 AM when I read the following email... I laughed out loud... There were times in my life where I should have had a great come back like this one...

The ULTIMATE WOMAN
It has long been contended that there are male jokes and there are female jokes. And there are unisex jokes. Here is a joke I consider a true female joke. I offer it to you in the hopes that women will love it and men will pass it along to a woman who will love it.


A woman was sitting at a bar enjoying an after-work cocktail with her girlfriends when an exceptionally tall, handsome, extremely sexymiddle-aged man entered.

He was so striking that the woman could not take her eyes off him. The young-at-heart man noticed her overly attentive stare and walked directly toward her (as all men will).

Before she could offer her apologies for so rudely staring, he leanedover and whispered to her, "I'll do anything, absolutely anything, that you want me to do, no matter how kinky, for $20.00......on one condition."

(There are always conditions!)

Flabbergasted, the woman asked what the condition was. The manreplied, "You have to tell me what you want me to do in just three words."

(Controlling, huh?)

The woman considered his proposition for a moment, then slowly removed a $20 bill from her purse, which she pressed into the man's hand along with her address. She looked deeply into his eyes, and slowly and meaningfully said.. .

"Clean my house."

Until we meet again...
Posted by Girl on the Blog :: 2:06 AM :: 0 Comments:


---------------oOo---------------
Sunday, September 04, 2005
Sad... Isn't it?

Today, while getting ready for church, I stopped for a moment to watch "Meet the Press with Tim Russert". One of his guest was Jefferson Parish President Broussard. Here is one part of the interview that had me in tears.... (You can read the complete transcripts here.)


MR. RUSSERT: And we are back.

Jefferson Parish President Broussard, let me start with you. You just heard the director of Homeland Security's explanation of what has happened this last week. What is your reaction?

MR. AARON BROUSSARD: We have been abandoned by our own country. Hurricane Katrina will go down in history as one of the worst storms ever to hit an American coast, but the aftermath of Hurricane Katrina will go down as one of the worst abandonments of Americans on American soil ever in U.S. history. I am personally asking our bipartisan congressional delegation here in Louisiana to immediately begin congressional hearings to find out just what happened here. Why did it happen? Who needs to be fired? And believe me, they need to be fired right away, because we still have weeks to go in this tragedy. We have months to go. We have years to go. And whoever is at the top of this totem pole, that totem pole needs to be chain-sawed off and we've got to start with some new leadership.
It's not just Katrina that caused all these deaths in New Orleans here. Bureaucracy has committed murder here in the greater New Orleans area, and bureaucracy has to stand trial before Congress now. It's so obvious. FEMA needs more congressional funding. It needs more presidential support. It needs to be a cabinet-level director. It needs to be an independent agency that will be able to fulfill its mission to work in partnership with state and local governments around America. FEMA needs to be empowered to do the things it was created to do. It needs to come somewhere, like New Orleans, with all of its force immediately, without red tape, without bureaucracy, act immediately with common sense and leadership, and save lives. Forget about the property. We can rebuild the property. It's got to be able to come in and save lives.

We need strong leadership at the top of America right now in order to accomplish this and to-- reconstructing FEMA.

MR. RUSSERT: Mr. Broussard, let me ask--I want to ask--should...

MR. BROUSSARD: You know, just some quick examples...

MR. RUSSERT: Hold on. Hold on, sir. Shouldn't the mayor of New Orleans and the governor of New Orleans bear some responsibility? Couldn't they have been much more forceful, much more effective and much more organized in evacuating the area?

MR. BROUSSARD: Sir, they were told like me, every single day, "The cavalry's coming," on a federal level, "The cavalry's coming, the cavalry's coming, the cavalry's coming." I have just begun to hear the hoofs of the cavalry. The cavalry's still not here yet, but I've begun to hear the hoofs, and we're almost a week out.

Let me give you just three quick examples. We had Wal-Mart deliver three trucks of water, trailer trucks of water. FEMA turned them back. They said we didn't need them. This was a week ago. FEMA--we had 1,000 gallons of diesel fuel on a Coast Guard vessel docked in my parish. The Coast Guard said, "Come get the fuel right away." When we got there with our trucks, they got a word. "FEMA says don't give you the fuel." Yesterday--yesterday--FEMA comes in and cuts all of our emergency communication lines. They cut them without notice. Our sheriff, Harry Lee, goes back in, he reconnects the line. He posts armed guards on our line and says, "No one is getting near these lines." Sheriff Harry Lee said that if America--American government would have responded like Wal-Mart has responded, we wouldn't be in this crisis.

But I want to thank Governor Blanco for all she's done and all her leadership. She sent in the National Guard. I just repaired a breach on my side of the 17th Street canal that the secretary didn't foresee, a 300-foot breach. I just completed it yesterday with convoys of National Guard and local parish workers and levee board people. It took us two and a half days working 24/7. I just closed it.

MR. RUSSERT: All right.

MR. BROUSSARD: I'm telling you most importantly I want to thank my public employees...

MR. RUSSERT: All right.

MR. BROUSSARD: ...that have worked 24/7. They're burned out, the doctors, the nurses. And I want to give you one last story and I'll shut up and let you tell me whatever you want to tell me. The guy who runs this building I'm in, emergency management, he's responsible for everything. His mother was trapped in St. Bernard nursing home and every day she called him and said, "Are you coming, son? Is somebody coming?" And he said, "Yeah, Mama, somebody's coming to get you. Somebody's coming to get you on Tuesday. Somebody's coming to get you on Wednesday. Somebody's coming to get you on Thursday. Somebody's coming to get you on Friday." And she drowned Friday night. She drowned Friday night.

MR. RUSSERT: Mr. President...

MR. BROUSSARD: Nobody's coming to get us. Nobody's coming to get us.

The secretary has promised. Everybody's promised. They've had press conferences. I'm sick of the press conferences. For God sakes, shut up and send us somebody.

MR. RUSSERT: Just take a pause, Mr. President. While you gather yourself in your very emotional times, I understand, let me go to Governor Haley Barbour of Mississippi....
I have read all of this has gotten so bad that some of the people that have been trying to help (cops, firefighters, etc...) have committed or tried to commit suicide. WHAT? Read it here.
Times like this makes me sit back and reflect on "why things/disasters like this happen"... is it to make "us" stronger or to make "us" realize we are not as strong as "we" think "we" are. "We" are the first in line to help every other country but when it comes to "our" own... "we" are in the back of the line. Sad... isn't it?
Until we meet again...
Posted by Girl on the Blog :: 4:54 PM :: 3 Comments:


---------------oOo---------------
Saturday, September 03, 2005
Sinking Feeling...

I have been glued to my TV the last few days. I have been watching stories unfold regarding Hurricane Katrina and the aftermath. I am trying to understand why our country has lost its creditability. My heart has that same sinking feeling like it did when 9/11 happened. I have been watching heart breaking pictures, video and pleads for HELP from innocent adults and children! Scientists at Louisiana State University say their computer models now suggest as many as 80,000 people may have perished. Hopefully this is not true.

A statement given by Jack Cafferty, who is with CNN news, let his views be known on one of Wolf Blitzers shows, The Situation Room. He sums up how a lot of Americans feel. I couldn't have said it better myself.

Jack Cafferty: "The thing that's most glaring in all this is that conditions continue to deteriorate for the people who are victims in this, and the efforts to do something about it don't seem to be anywhere in sight. I want to read you something, Wolf. This is a quote from an editorial:"

'A better leader would have flown straight to the disaster zone and announced the immediate mobilization of every available resource. The cool, confident intuitive leadership Bush exhibited in his first term, particularly in the months following 9/11, has vanished.'

"Now that's not from some liberal rag; that is an editorial from one of the most conservative newspapers in the country, New Hampshire's UNION LEADER. THE NEW YORK TIMES, not unexpectedly, kind of chimed in. They said the president showed up a day later than he was needed and they excoriate him for appearing 'casual to the point of carelessness.'Harsh words coming from FEMA's former disaster response chief, Eric Tolbert: 'The government was not ready and shifted its attention from natural disaster to fighting the war on terror.'

" The questions we ask on The Situation Room every afternoon, Wolf, are posted on the website 2 to 3 hours before we go on the air, and people who read the website often begin to respond to the questions before the show actually starts. The question this hour is: How would you rate the response of the federal government to Hurricane Katrina?"

"I've got to tell you something, we got 500-600 letters before the show even went on the air. NO ONE --- NO ONE--- says the federal government is doing a good job in handling one of the most atrocious and embarrassing and far-reaching and calamitous things that has come along in this country in my lifetime. I'm 62, I remember the riots in Watts, I remember the earthquake in San Francisco. I remember a lot of things. I have never, ever, seen anything as badly bungle and poorly handled as this situation in New Orleans.

"Where the hell is the water for these people? Why can't sandwiches be dropped to those people who are in the Superdome down there? I mean, what is going on -- this is Thursday. This is the government the taxpayers are paying for, and it's fallen right flat on its face, as far as I can see, in the way it's handled this thing."

This has to be a dream and someone will pinch us all and everything will be okay... right? How in the world did America get like this? In a drop of a hat we were there to help those in the tsunami relief. We can help every other country but our own? How is this possible? Why is this possible? As an American this is the biggest slap in the face. I can not imagine what our fellow Americans with out food, water, clothing, etc... are thinking or feeling about what is suppose to be the "Greatest" country in the world....

Also, the Louisianians, Mississippians and Alabamians are not refugees... They are victims. Victim means one who is harmed, one who is made to suffer, or one who is taken advantage of.


Until we meet again...
Posted by Girl on the Blog :: 12:37 AM :: 2 Comments:


---------------oOo---------------
Friday, September 02, 2005
Be Kind to Your Fellow Nerd...

I received this email today from my sis... I love it! Thought I would share it with you....

Sent: Friday, September 02, 2005 8:35 AM
Subject: Fw: (no subject) (this is great!)

Love him or hate him, he sure hits the nail on the head with this!

To anyone with kids of any age, here's some advice.

Bill Gates recently gave a speech at a High School about 11 things they did not and will not learn in school. He talks about how feel-good, politically correct teachings created a generation of kids with no concept of reality and how this concept set them up for failure in the real world.

Rule 1: Life is not fair - get used to it!

Rule 2: The world won't care about your self-esteem. The world will expect you to accomplish something BEFORE you feel good about yourself.

Rule 3: You will NOT make $60,000 a year right out of high school. You won't be a vice-president with a car phone until you earn both.

Rule 4: If you think your teacher is tough, wait till you get a boss.

Rule 5: Flipping burgers is not beneath your dignity. Your Grandparents had a different word for burger flipping: they called it opportunity.

Rule 6: If you mess up, it's not your parents' fault, so don't whine about your mistakes, learn from them.

Rule 7: Before you were born, your parents weren't as boring as they are now. They got that way from paying your bills, cleaning your clothes and listening to you talk about how cool you thought you were. So before you save the rain forest from the parasites of your parent's generation, try delousing the closet in your own room.

Rule 8: Your school may have done away with winners and losers, but life HAS NOT. In some schools, they have abolished failing grades and they'll give you as MANY TIMES as you want to get the right answer. This doesn't bear the slightest resemblance to ANYTHING in real life

Rule 9: Life is not divided into semesters. You don't get summers off and very few employers are interested in helping you FIND YOURSELF. Do that on your own time.

Rule 10: Television is NOT real life. In real life people actually have to leave the coffee shop and go to jobs.





Rule 11: Be nice to nerds. Chances are you'll end up working for one.



Until we meet again...
Posted by Girl on the Blog :: 12:22 PM :: 4 Comments:


---------------oOo---------------
Thursday, September 01, 2005
Sniff...Sniff...

I haven't felt that great today. I have had a headache and I have been so tired. Is it flu season yet? I have been ill as a hornate. First thing this morning, I bit my hubby's head off for not kissing me good-bye when he was leaving for work. Poor guy! He was probably cussing me all the way to work. :( I haven't slept well for the past week. I am constantly waking up at 4:30 a.m. and cannot go back to sleep. I do believe we need a new mattress. I wake up so stiff jointed in the mornings. My hubby says we just need to flip the mattress. He sleeps fine... course he could sleep on a slab of rock and wake up "bright eyed and bushy tailed". I like a soft mattress... but our mattress is anything but soft. Maybe I will sleep on the sofa tonight... it is soft and so comfy... we will see how I feel tomorrow.




Hmmm...maybe if I continue to sleep on the sofa my hubby might decide to get a new mattress...


Until we meet again...
Posted by Girl on the Blog :: 11:04 PM :: 2 Comments:


---------------oOo---------------